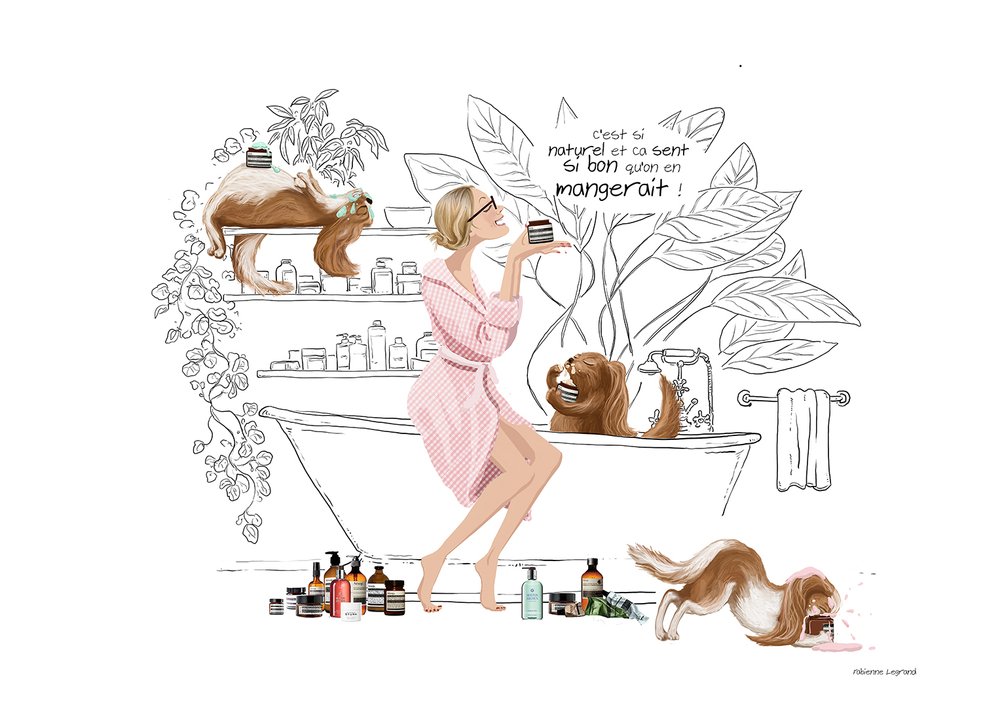 1. Where does your passion for illustration come from?
As far back as I can remember, five or six years, no more, I have always drawn, preferably people, rarely landscapes, sometimes animals.
I developed an immoderate taste for caricature, to depict people I know or not, in humorous situations, quickly adopting a caustic prism, mocking without malice.
2. What are your sources of inspiration for the creation of your characters?
My sources of inspiration, child or young teenager, were the albums of Gotlib, Brétecher, Moebieus, Franquin, Cabu, very eager for everything that came to hand as comics, from Uderzo to Tardi, as well as a passion for humorous drawing with Reiser, Serre, Sempé, Wolinsky, Kiraz, Ronald Searle.
I sketched in class my classmates, my teachers, my entourage, with the sole purpose of making others laugh. I got into the habit of watching, detailing what surrounds me with a particular filter, that of exaggerating the traits or behaviors of those I observe, a distorting vision in a way. The slightest detail of an attitude or a posture can make me laugh because it takes on an extrapolated, absurd, comic form in my mind. These staged situations sometimes stem from my own experiences.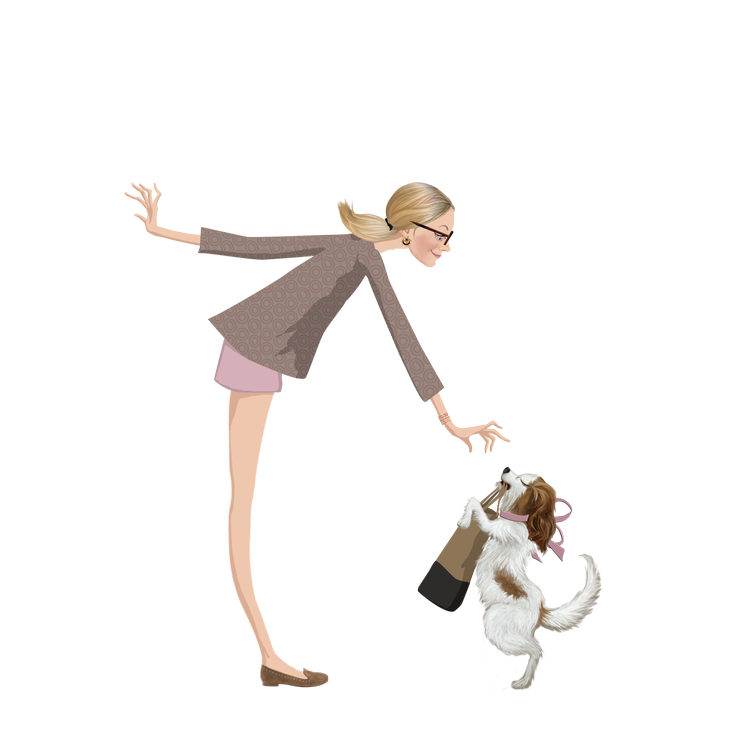 3. Do your illustrations reflect everyday life situations?
"Adolescent, I staged myself in certain drawings, with my own physique and my person.
I have always drawn from the many situations that everyday life offers to create my albums or my humorous drawings for the press.
When I am asked to create drawings, it is natural for me in the first intention to base my creation on the people themselves. When that is not possible, I create an imaginary character that corresponds to the universe that I am going to deal with, this was the case in my collaborations for Longchamp, Clarins or Madame Figaro."
4. How was born the process of the creation of Sissi?
When I first met Elizabeth and Christopher, they won me over in the first minute!
I left the meeting pinching myself, repeating to myself that I was not dreaming, that such a beautiful, refined couple, full of humor, joy of living, charm, overflowing with love could exist in real life. for each other, having produced such cute children, both embarked hand in hand in a project full of elegance.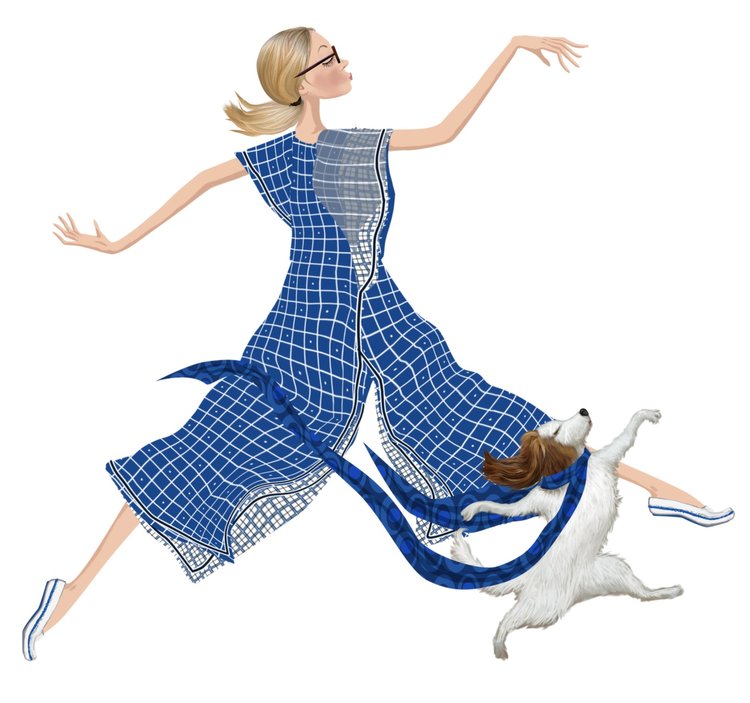 5. Describe your first meeting with Elizabeth
There was an unreal side to this first interview and at the same time very refreshing to tell yourself that it was possible, to the point of wanting to be adopted by this wonderful family. I immediately saw in my head the character of Sissi.
This is the advantage of finding yourself face to face with such a radiant personality, overflowing with positive energy, with a singular physique and style, very assertive. A godsend for the designer that I am! So inspiring!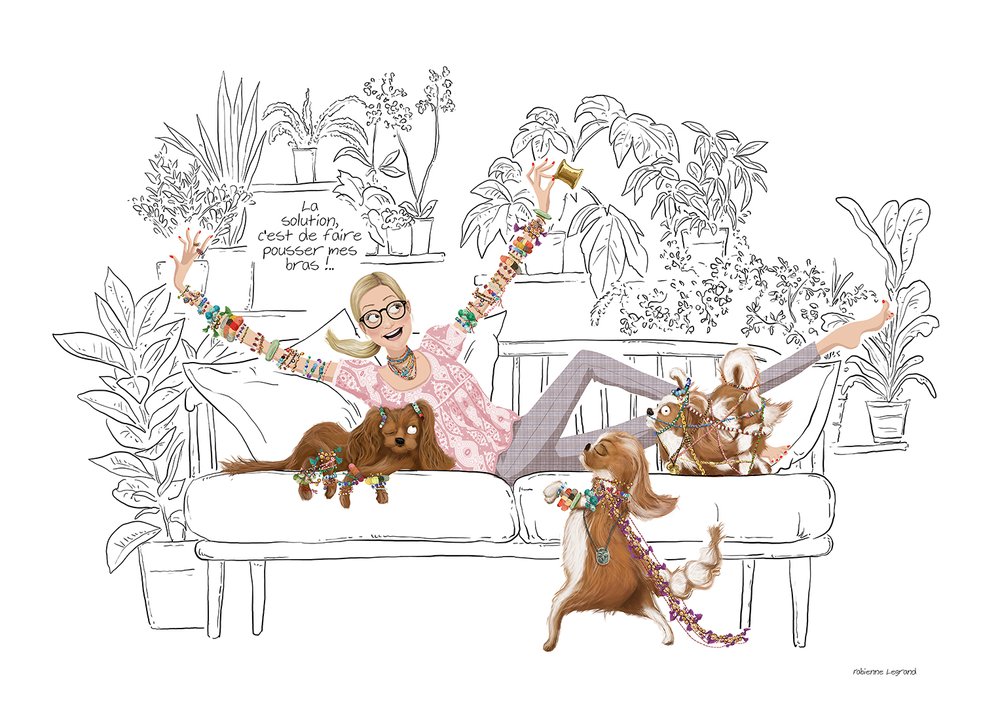 6. What do you like about the character of Sissi?
Watching him, everything was there, his passion, his generosity, his humor, his sparkle, his poetry, his facetious, playful, whimsical and sometimes candid side. Without counting on his canine companions who allowed me multiple situations.
This is what I then tried to transcribe in each of the imagined scenes and in the representation of Sissi, whether it be her features or her attitudes.
I could say that Elizabeth/Sissi is in real life a real comic book character, I only had to slightly amplify the line for my drawings, a gift for me!
In regards to
Born in 1967 in Isère, Fabienne Legrand worked for years in 3D. In June 2011, she decided to devote herself fully to her passion by becoming an illustrator and author. She then published an album of humorous drawings, entitled "Unété au Cap ferret" which was followed by two other albums, followed by several books produced in partnership with Clarins, all published at Cherche Midi.
She also draws for the press, for Madame Figaro, Clé magazine, Marie-Claire Italy, Nouvel Obs, Arts et Métiers Magazine. "Absolutely Fabulous" published in October 2018 at the seek midi editor brings together its pages of humor from Figaro Madame. His latest book, "Kourrage Antoine", published in October 2020, is this time above all a text, a testimony punctuated with drawings.
She collaborates in advertising and communication projects, always as an author and illustrator with Engie, MAIF, Ducati, Bonpoint, Clarins, Longchamp, Voyageurs du Monde, Tiffany & Co, Pyrex, Cluizel, Café Pouchkine, BHV, Gan , Delage, Muse By.
Bibliography
Since then, Fabienne Legrand has published albums and many unreleased ones:
A summer in Cap Ferret seeks midi editor - 2012
I have two loves, my bag and Paris seeks midi editor - 2013
Beauty on my plate Written by Olivier Courtin Clarins seeks midi editor - 2015
Absolutely Fabulous seeks noon editor – 2018
Beautiful in my recipes Written by Olivier Courtin Clarins seeks noon editor March 2020
Kourrage Antoine seeks noon editor October 2020
Les Digitales seeks noon publisher March 2021